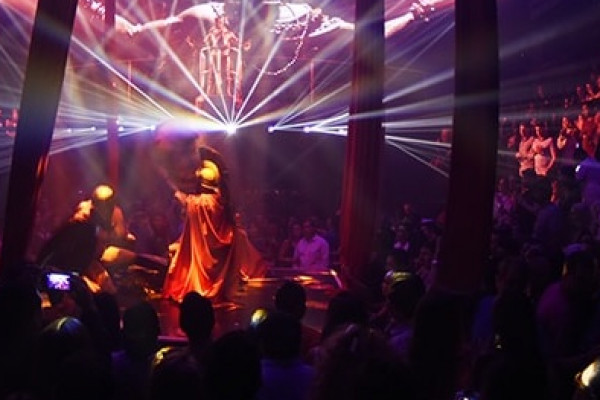 Tour de noche que incluye Show en Vivo, barra libre con diferentes opciones. El tour tiene el transporte incluido.
Tour en soirée qui inclus spectacle, boissons a volonté (avec différentes options) et transport aller-retour
Night club with life performances included, open bar multiple options. The tour includes roundtrip transportation
Tour de Noche (Discoteca-Show)/ Night Tour / Discotheque de nuit
Transportación Incluida7 Transfer Included /transport inclus
Barra Libre/ Open Bar / Boissons a volonté
Show incluido/ Show Included / Spectacle inclus
Incluido

Show, barra libre y transportación/ Show, open bar and trasportation / Spectacle, boissons a volonté et transport

No incluido

Botellas / Bottels / Bouteilles

Acceso preferencial / Preferent Access / Entrée rapide

Mesa/ Table / Table

 

Acceso rapido al lugar

 

No hay reservación de lugar especifico

Duración
0 Hora
Qué hay que llevar

Obligatorio traer el ticket de acceso. Cupon most be presented at boarding time.  Il est obligatoire de donner le coupon d´entrée

Idiomas
Español, Francés, Inglés
Horarios de apertura
Más información
Una fiesta sin fin con excelentes imitaciones y shows alocados equipados con sonido y audio de alta calidad, ubicado en Calle 12 Norte, esquina con Av. 10 Norte, Col. Centro; a tan solo una calle de la famosa 5ª avenida, Coco Bongo Playa del Carmen está rodeado por coloridos edificios al estilo caribeño, diversos restaurantes de comida internacional y la característica vibra despreocupada que ofrece este paraíso dentro de la Riviera Maya. Toda la tranquilidad desaparece una vez que haz cruzado nuestras puertas, siente la energía de alto voltaje, mientras te sorprendemos con acróbatas volando a lo largo del salón y emocionantes tributos a las grandes figuras de la música, un lugar para bailar, ser sorprendido y con suerte… hasta formar parte del show.
infórmate mejorreserva mejorviaja mejor
TripAdvisor Traveler Rating
14462 Valoraciones